Thomas Scholarships Announced
30/01/2021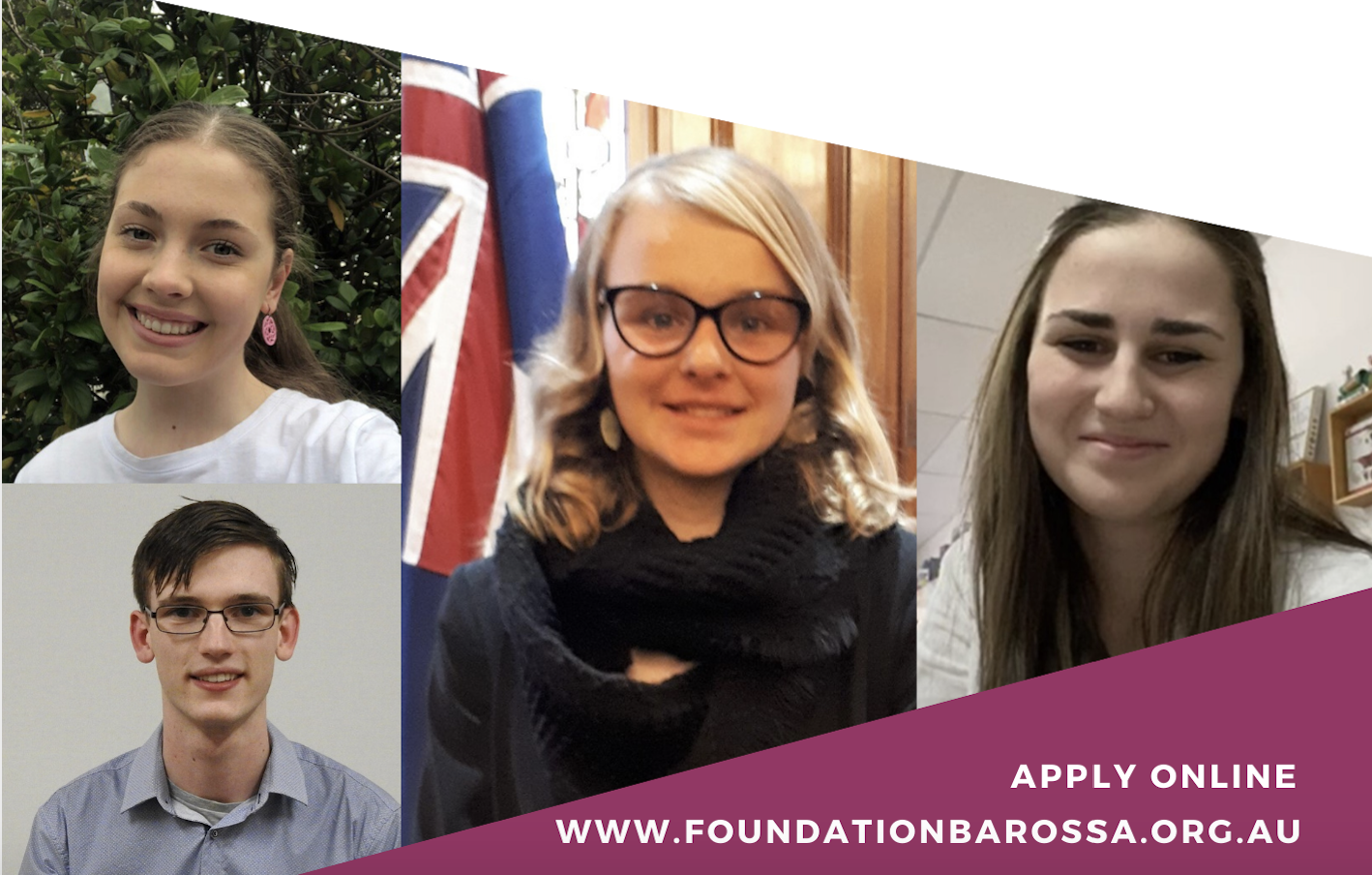 In July 2020, the four recipients of the Foundation Barossa Thomas Scholarship for the following year (2021) were announced.
Research shows us that students from rural and regional areas have lower completion rates of tertiary education. Thanks to the generosity of David and Barbara Thomas, this scholarship provides students assistance with the financial barriers to study. The program also provides mentorship from members of the community to develop specific skills and knowledge to enhance the student's professional and personal growth. 
The recipients of the 2021 Thomas Scholarship were selected from a strong group of students, demonstrating a passion for their intended course of study, a strong work ethic and a commitment to the region. For the panel, it was not an easy decision as the calibre of applicants was so high. 
The 2021 Thomas Scholarship recipients are: 
Charlotte Noack, who will be studying for a Bachelor of Education at either Tabor College or the University of South Australia. 
Ben Kleinig, who is in his first year of a Computer Science (Advanced) degree at the University of Adelaide, with a goal to major in cybersecurity or data science.
Ruby Harris, who will start her Bachelor of Primary Education at the University of South Australia in 2021.
Alyssa Feltus, who will be studying for a Bachelor of Medical Studies/Doctor of Medicine at the University of South Australia. 
'We are thrilled to be able to extend the reach of this program this year. The determination shown by the students and their motivation to make the most of this opportunity makes it a privilege to be able to help assist them to fulfil their goals and bring much-needed skills back to the region", said Annabelle Elton-Martin, Executive Officer Foundation Barossa.
The formal presentation of the scholarship will take place in early 2021. 
Individuals and organisations wishing to find out more about Foundation Barossa Scholarships can contact Annabelle Elton-Martin, Foundation Barossa Executive Officer on info@foundationbarossa.org.au