THOMAS SCHOLARSHIPS OPEN FOR 2023
1/06/2023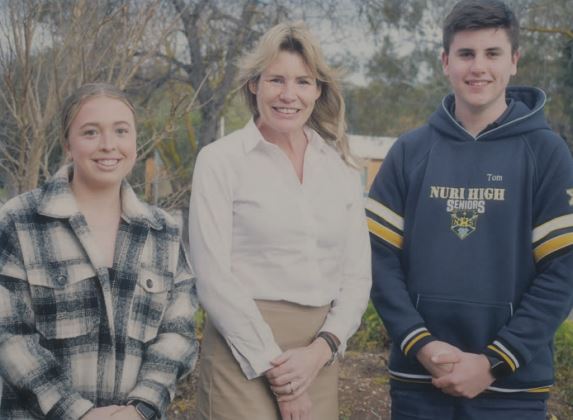 As the 2023 Thomas Scholarships open, we wanted to share our media release announcing last year's scholars last September,
Amber Perry and Tom Richardson are the Thomas Scholars for 2023.
The scholarship will provide welcome support to the students, who will receive financial assistance to support their studies.
Amber impressed the panel with her dedication and determination to study a Bachelor of Viticulture and Oenology program at the Waite campus at Adelaide University beginning in 2023.
Amber's passion for winemaking started a few years ago while working a vintage as a Vintage Cellar Hand at Barossa Valley Estate, after completing the vintage.  She was fortunate enough to work in a very team-based and educational Winery where she was given plenty of opportunities to grow her knowledge and learn about the wine industry. Amber was offered an opportunity to broaden her skills with a new role as a Vintage Lab Technician for the 2022 Vintage. This was a great opportunity and further cemented her commitment and love for the industry.
Amber is aiming to use the knowledge and experiences she will gain to give back to the Barossa community.  She aspires to one day be a head Winemaker at a Winery where she will be able to craft wines of the same quality that keeps the Barossa as a leader in the industry.
This scholarship has given Amber the opportunity to study that otherwise she does not feel would have been possible due to financial hardship and a work-intensive study load.
"I am extremely grateful to receive the Thomas Scholarship, it is such a privilege and will be invaluable in helping me through my university studies to achieve my dream of becoming a Winemaker. The financial assistance will allow me to buy the essential resources for the course and help with traveling costs to Uni which would be very hard to afford without this support from Foundation Barossa and the Thomas Scholar donors", said Amber.
Tom Richardson plans to return to the Barossa after completing a degree in either mechanical or electrical engineering.   He will be enrolling at Adelaide University next near in the Engineering Flexible Entry course which will give him a good insight into both careers and from there, he can choose which he will continue to study for the rest of his degree.
"The generous support of this scholarship will allow me to set myself up for my studies at university. With this assistance, it will ease some of the financial pressures I will face with my tertiary education.", said Tom
The Thomas Scholarship was Foundation Barossa's first scholarship. It was set up thanks to a generous donation by David and Barbara Thomas in 1998.
Through the scholarship, Foundation Barossa helps young people contribute to Barossa's future.
'We're excited to award these scholarships to Amber and Tom. We wish them the best with their studies. The Foundation would also like to thank Fiona Donald, Anne Maree Clementson, and Steve Clarkson for being part of the selection panel and bringing their industry experience, passion for the region and support for local students to the process,' said Executive Officer, Annabelle Elton-Martin.