Collaborative mural to preserve history and culture at Nuriootpa High School
10/01/2023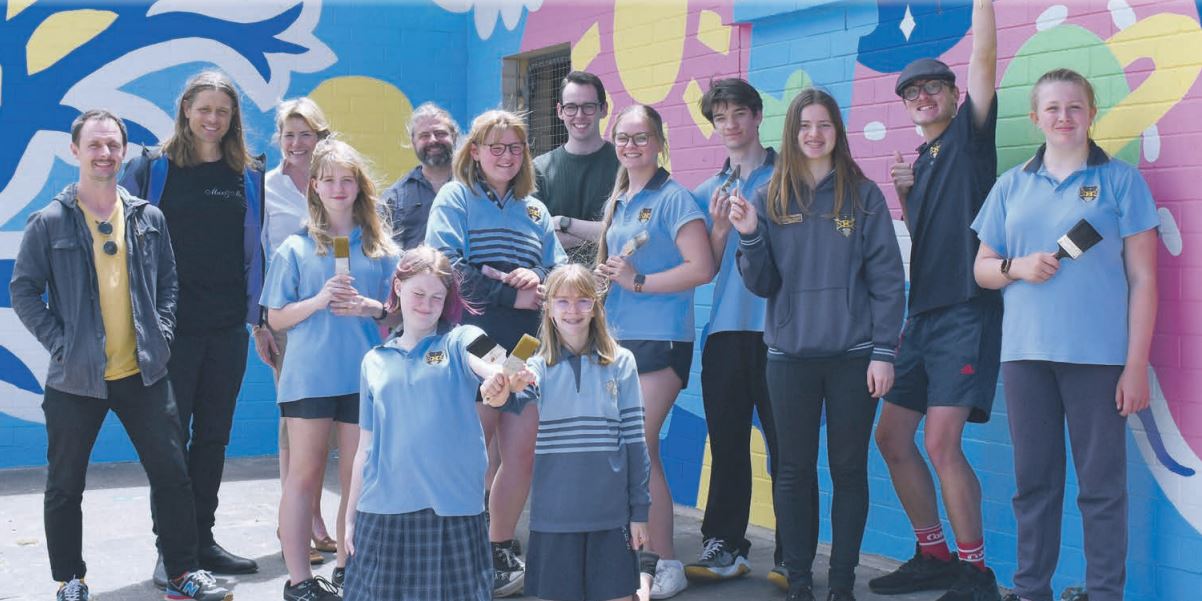 30 November 2022
Nuriootpa High School received a grant through the Peter Lehmann Arts & Education Trust to create a 75-square-metre collaborative mural within the school grounds. The project was also sponsored by Dulux, who provided high-quality exterior paint ensuring the longevity of the mural will occur.
The design and painting of the mural were completed by a student working party, professional artist Lucinda Penn, and the Student Representative Council. The working group connected with past scholars of the school at Barossa Village. Students from the school's Inclusive Education Centre and ATSI (Aboriginal and Torres Strait Island) group were also involved in the process. Combining the perspectives of these students with other members of the community provided a broad perspective of the cultural and historic fabric that makes up Nuriootpa High School.
The students were asked to consider what being a student of Nuriootpa High meant to them, the values of the school, and the connection of the school to the wider community when considering the design of the wall was based around.
Key themes that can be seen highlighted in the beautiful mural include kindness, diversity, respect, learning, connections, opportunity, and meeting place.
"Receiving the Peter Lehmann Arts Trust Grant is really important for the school. The Student Represented Council wanted to create a mural around the school to improve the facilities and promote the positive aspects of the school and the Barossa region. With the funding received, we were able to facilitate a student lead mural which they designed and painted with a professional artist". said Arlon Hall, Art Teacher & SRC Manager, at Nuriootpa High School
Established in 2014, The Peter Lehmann Arts and Education Trust (PLAET) fosters arts and cultural learning opportunities and access. It provides grants for arts, culture, and Page | 2
education projects in the Barossa. Foundation Barossa oversees the administration of the trust with an Advisory Committee, including members of the Lehmann family.
"Nuriootpa High School was a very important institution to all of us," said Philip Lehmann. " My brother Dave and I were both matriculating students from there in the 90's, and Mum an English teacher in the 70's. We were all captivated by the mural proposal by the SRC students, and what a ripper idea to lift that drab but functional building with some thought-provoking art and colour, and to "to sustain and nurture the culture within the school with the wider Barossa community". Plus the 'before' photo is just how I remember it from 30 years ago. Time for a facelift.."
Nuriootpa High School has a long and proud history within the Barossa and the project is important to sustain and nurture the culture within the school with the wider Barossa community. The preservation of knowledge and culture of the school has been achieved through the multiple generation perspectives told through the mural.
The mural will be used as a tool to communicate the culture of the school to current students and future generations.