Foundation Barossa Bequests
17/08/2021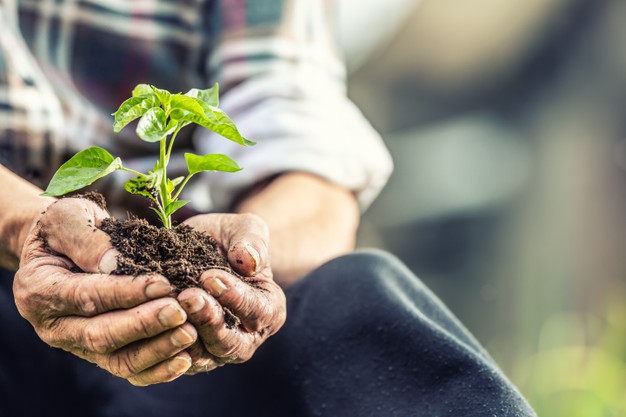 Gifts in Wills:  A gift that lasts forever
Our Role:
Foundation Barossa is a community-based foundation that invests for the long term benefit of our community.
We work with the local community to identify key needs, build community strength and find collaborative solutions to problems. This creates a strong, vital community in which everyone can participate and contribute.
We believe that everyone within our community deserves to participate fully. We recognise that some members of our community are excluded. We work to improve the ability, opportunity and dignity of those that are disadvantaged, to ensure no one is left out
Leaving a Gift in your Will:
Leaving a bequest to Foundation Barossa in your Will is a way of ensuring an ongoing impact on those who need it most in the community.  These funds will be held in trust by Foundation Barossa under terms agreed by you.  Every bequest to Foundation Barossa is invested in full, with only the earnings on the investments used to provide annual grants. This ensures your gift will last forever, providing ongoing benefit to the community for now and in future generations.
There are a number of ways to give.  Your gift may be given during your lifetime as a one-off donation or as an annuity over time, or included in your Will as a bequest.  You may select to have your bequest honoured in a "Named Fund", ensuring your gift is in your family name or a person of significance to you.  Your gift will be included in our annual report unless anonymity is requested.
Note: Gifts made during a donor's lifetime are tax-deductible.
Leaving a charitable gift in your Will won't require much time or a lot of money. 
There are several ways you can structure your gift:
Leaving a specified amount
Giving a percentage of the overall value of your estate
Giving real estate or an investment (for example shares, property, artwork)
Making a 'Residual Gift' – which is a share of your estate after providing for families and friends.
Including a Bequest in your Will:
If you wish to support the work of Foundation Barossa through bequest giving, please contact us.  We will work with you to understand your wishes and support the documentation your solicitor will require to complete your Will.  Alternatively, you may choose to arrange for your bequest to be given to Foundation Barossa by working directly with your solicitor.
In either case Foundation Barossa can provide documentation examples, that can also be printed.
Click here to download: Foundation-Barossa-Bequests PDF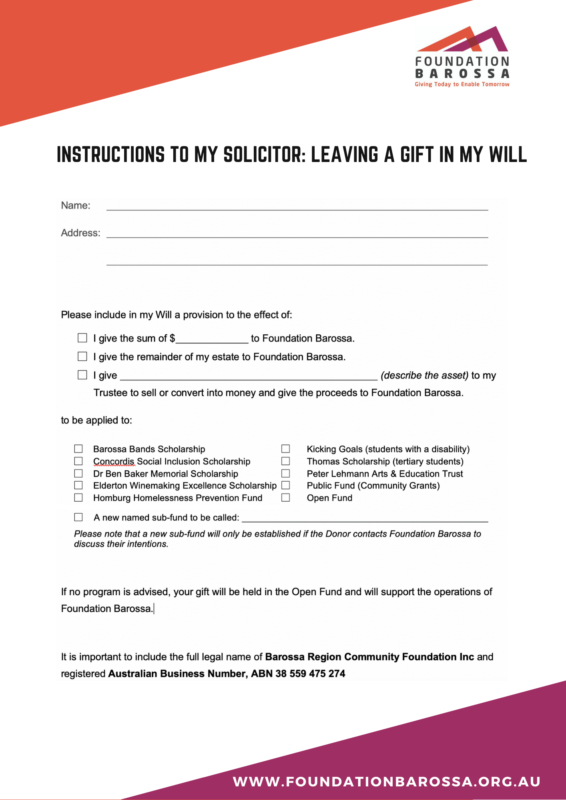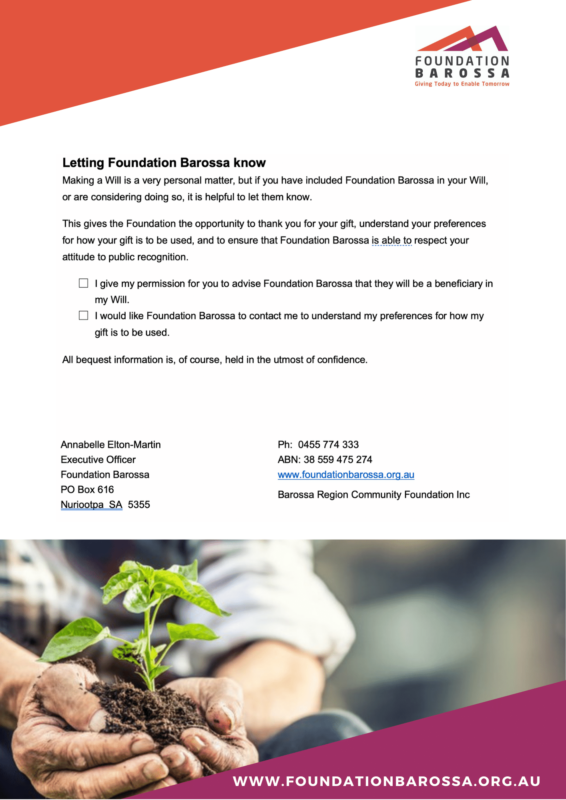 A Lasting Impact:
By leaving a gift in your Will to Foundation Barossa you can help improve the quality of life of those living in the Barossa – both now and in the future.  You will be directly helping address inequality and disadvantage and creating a strong, resilient community.
Contact Us:
Annabelle Elton-Martin
Executive Officer