Message from the Chair and the 2019 Foundation Barossa Annual Report
7/01/2020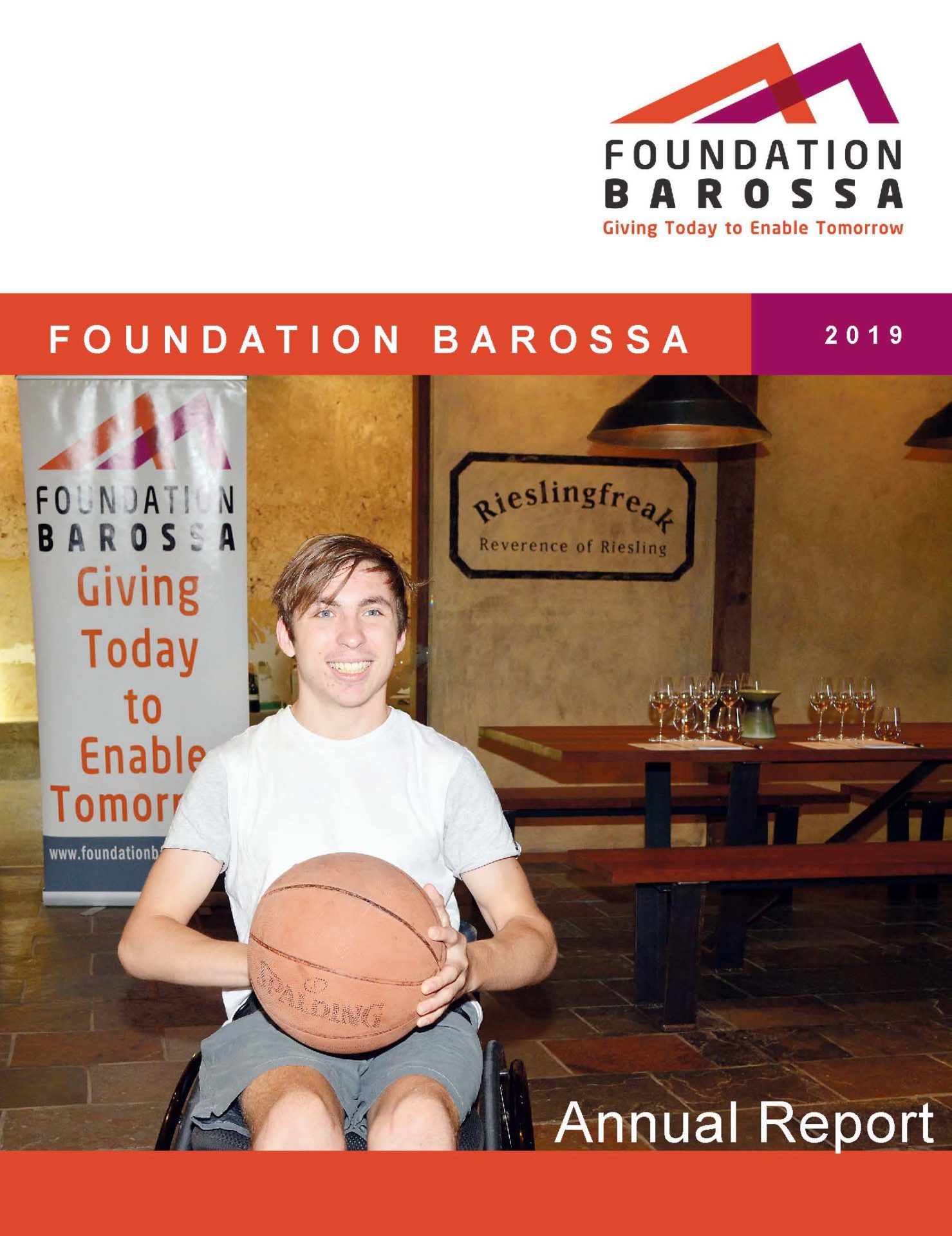 Dear Friends,
I'm delighted to be looking back on a stellar year for Foundation Barossa, where we've made some solid steps towards becoming an even stronger advocate for the disadvantaged in our community and where we've delivered on our charter and purpose.
Our role at the Foundation is to encourage philanthropy and provide a vehicle for Barossans to build a sustainable financial asset to be used to nurture our community, to provide opportunities for community groups, for those less advantaged, for young people starting out, and wherever some additional financial support would contribute to the health and preservation of our community, our heritage and our environment. 
Over the past year, the Board have strived to ensure that the right conditions exist to support these aspirations. This has included developing a new and improved website, to ensure we have current and accurate information available and importantly, an easy way for our supporters to donate to their chosen cause. It has also included a review of our governance processes, to ensure they're relevant, modern and robust. Our Board are intent on making sure that our processes are transparent and sustainable, and that we reflect what we believe are the community's expectations for considered, ethical, prudent management.
We act as custodians on behalf of our community for the assets under our management and as such, our investment strategy is necessarily measured and cautious. Nonetheless, we have again been successful in achieving healthy returns, under the guidance of our Finance sub-committee of Karl Martin and Lisa Laycock, supported by the generous contribution of Mark Williams of W2Wealth. Their disciplined and prudent oversight sees the Foundation's investments in good shape. 
A highlight of this past year has been the appointment of Annabelle Elton-Martin to the Executive Officer role. Annabelle brings an appetite for work, relentless optimism and a keen focus on possibilities. She has made an auspicious start and earned the confidence of the Board and the wider community, and we look forward to the contribution she will make into the future.
We have also welcomed two new Board members – Neil Retallick and Jenny O'Brien, both of whom bring energy and wisdom to the Foundation, and our Board is stronger for their contribution.
All Board members continue to volunteer their time and energy and their thoughtful consideration to building capacity and self-reliance within our very special community, and to ensure the diligent management of community funds. In my view, we have a healthy and energised Board, with all members contributing actively and generously – and long may it remain so!
We are fortunate to have several generous partners, offering in-kind support to the Foundation. Fuller who provide support for our website; Barossa Council make office space available for Annabelle; and AON insurance brokers provide generously discounted fees. For a community foundation with a shoestring budget and a commitment to making every donated dollar count, the support provided via these relationships is invaluable.
Here is just some of the work that has been completed this past year:
The Peter Lehmann Arts and Education Trust made inaugural grants of just under $21,000 to a total of seven new and exciting projects, that include:
• Tutti Barossa (offering professional development for artists identifying with a disability)
• Barossa Village's 'Courtyard Project' (mural, vegetable gardens, shelter)
• BBB / Youth Advisory Committee –  sponsoring the hugely successful Busk Til Dusk youth music event
• the development of a 'Barossa Food Heritage Toolkit'
• funding for an improvisation project with stellar musicians, playing the Hills and Son Organ; and 
• a contribution to renovations for Luhr's Cottage.
We have again made several community grants to great local initiatives.
Our Dollar a Day Appeal in June raised over $5,000 to support families in need.
We've continued our partnership with the Foundation for Rural and Regional Renewal (FRRR)  and last year awarded 80 Back to School Vouchers to provide direct financial assistance to families in need. 40 Vouchers were provided by Foundation Barossa, with FRRR matching the amount and providing an additional 40 vouchers.
With the support of John Hughes, the  Kicking Goals program continued with great energy, awarding a valuable scholarship to a local student with a disability.
The Concordis scholarship, with funds generated by our friends and partners, Two Hands, Kaesler, Torbreck and Seppeltsfield, was awarded to two local young people, starting off their careers in the wine industry. 
Foundation Barossa is in good shape as the 2018-19 year closes. We have a full list of new projects, a commitment to existing programs, a healthy and determined Board, and great optimism for the future.  Continuing to make a difference for our community rests with the continued goodwill and support of our philanthropic donors, sponsors and supporters and on behalf of Foundation Barossa, I extend a very big thank you to you all.
Nick Slape