2018 Scholars
18/05/2018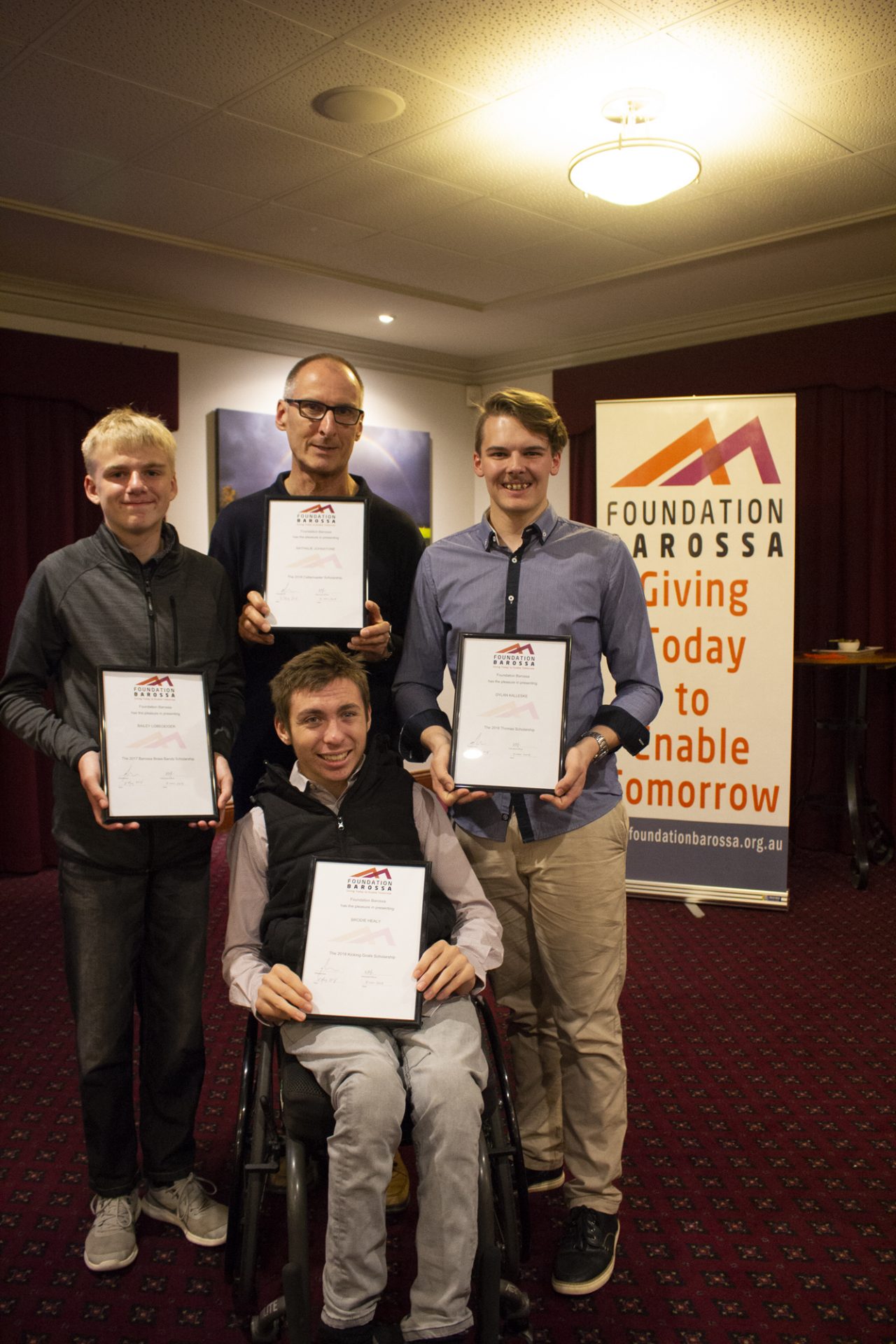 Foundation Barossa introduced its 2018 Scholars at The Clubhouse on 8 May.
Patron Kathryn Fuller said the motivation for the Scholarship program was addressing the challenges country students faced when moving away to university. Referring to the Foundation's mission of "Giving Today to Enable Tomorrow", Ms Fuller said:
"We can't enable the future with money alone. We need fantastic young people who can go off and study and then come back and contribute to the community."
The Thomas Scholarship was awarded to Dylan Kalleske to study a Bachelor of Oenology and Viticulture at the University of Adelaide to assist him in achieving his goal of joining the family business.
Nathalie Johnstone was awarded The Cellarmasters Scholarship. She is studying Law and Policy Studies at the Australian National University and hopes to work in community development and welfare. She is the first Foundation Barossa scholar to study outside of South Australia. VINPAC are very generous supporters of the Foundation, having contributed over $120,000 in funds for the Cellarmasters scholarship over the past five years.
The Kicking Goals scholarship was presented to Brodie Healy, a talented wheelchair athlete, attending Nuriootpa High. The Kicking Goals scholarship, supported by John Hughes and Rieslingfreak provides funds and support for students with a physical disability to assist them in their transition from school into the workplace or further studies.
Bailey Lobegeiger was awarded the 2017 Barossa Bands Scholarship. Supported by the Nuriootpa and Marananga Brass Bands, the scholarship aims to encourage junior players to extend their musical education.
2015 Thomas Scholar, Ashby Schilling, spoke about his study and career development. He is one of 12 scholars in the Forge Mentorship program, which matches scholars with Foundation Barossa board members. Ashby's mentor, Karl Martin, praised the experience, saying it had provided just as much benefit for him as for Ashby.
Foundation Barossa Chair Nick Slape paid tribute to outgoing chair Anita Bowen, highlighting her work on the Concordis project, which has established a fund to provide financial support for wine industry training opportunities for local young people.
Executive Officer Kylie Piper spoke about the Foundation's Community programs, including the Back to School vouchers which support families within local schools who are experiencing financial distress. The $50 vouchers, funded through the Foundation for Rural and Regional Development provide highly valued relief for around 200 families within our community.
She also highlighted the projects funded through community donations to support those affected by the Pinery fires. These included the establishment of memorials, additional school vouchers and ongoing re-vegetation projects.
Foundation Barossa aims to nurture and build the Barossa community's strength and assets, by responding to challenges and opportunities and supporting organisations and individuals to do likewise. All donor funds are invested in perpetuity, and interest from these funds is distributed annually to local community groups. The capital remains intact and the giving continues forever.
The current round of Community grants close on 31 May. Further details are available at www.foundationprod.wpengine.com